In August of 2023, my husband and I had the privilege of visiting Switzerland for eight days. It was a country we had dreamed of seeing for many years and knew this would be the year we would finally get to go. Our travels took us from sampling (possibly) hundreds of chocolates in Zurich, exploring the UNESCO city of Bern (the rain didn't deter us), eating cheese fondue (twice) and hiking through the Swiss Alps (where a supposed easy, flat, two mile hike turned into five moderate, mostly-uphill miles). Connecting us to all of these places was the magic (and efficiency) of Swiss trains.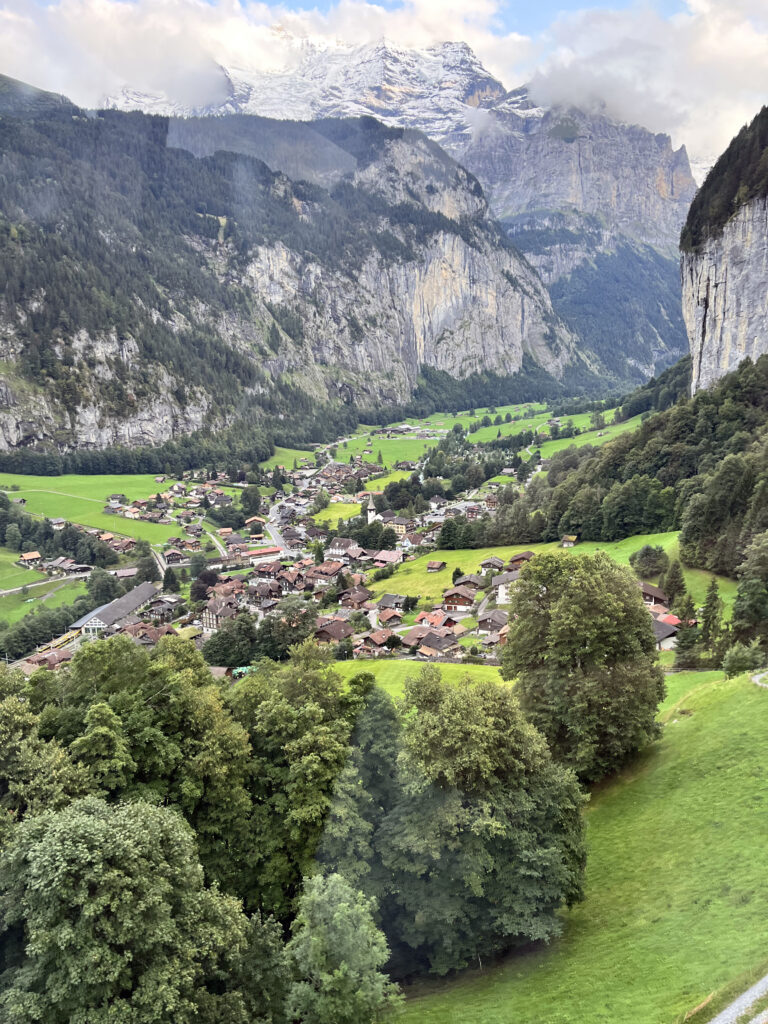 We stayed in Wengen, a small town high up in the mountains approximately 15 minutes away from the Instagram-popular Lauterbrunnen Valley, otherwise known as the city of 72 waterfalls. Part of the beauty of this region is the train system. The nearby transportation hub of Interlaken (a city nestled in-between Lake Thun and Lake Brienz to the east and west respectively, and mountain regions to the north and south) provides connections to many of the major mountain towns.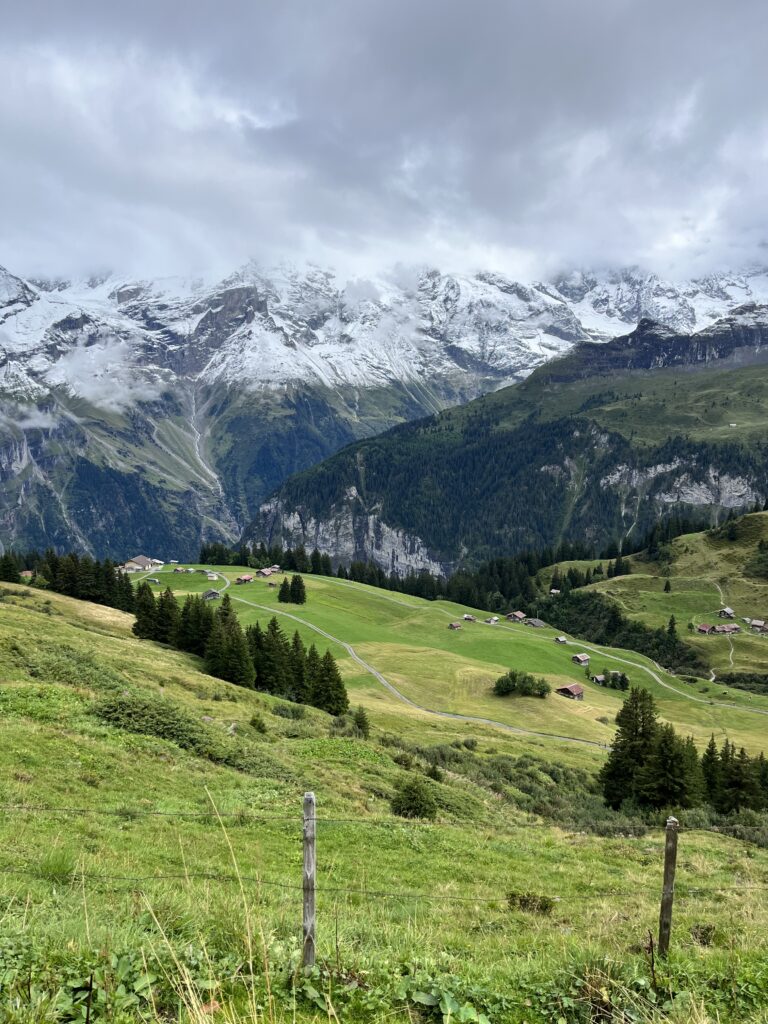 We had a hike planned for our first day in the mountain region. Our journey took us from Wengen to Lauterbrunnen Valley via train, Lauterbrunnen to Murren via Gondola and Murren to Allmendhubel via Funicular to get to the trail starting point. The trail went across the ridge of the southern mountain region, with views of the valley below us, the northern mountain region across from us and Schilthorn looming above us. We passed by farms with highland cows roaming and grazing outside of rustic barns and the occasional Swiss Chalet.
It is the Swiss Chalet that captured my attention (though the highland cows deserve some recognition too). These traditional works of architecture consist of steeply pitched roofs (which can almost touch the ground), decorative carvings (celebrating the Swiss art of woodworking), large windows (to allow plenty of daylight) and are made from hardy local woods. The Swiss Chalet is the perfect example of form meets function meets response to the microclimate.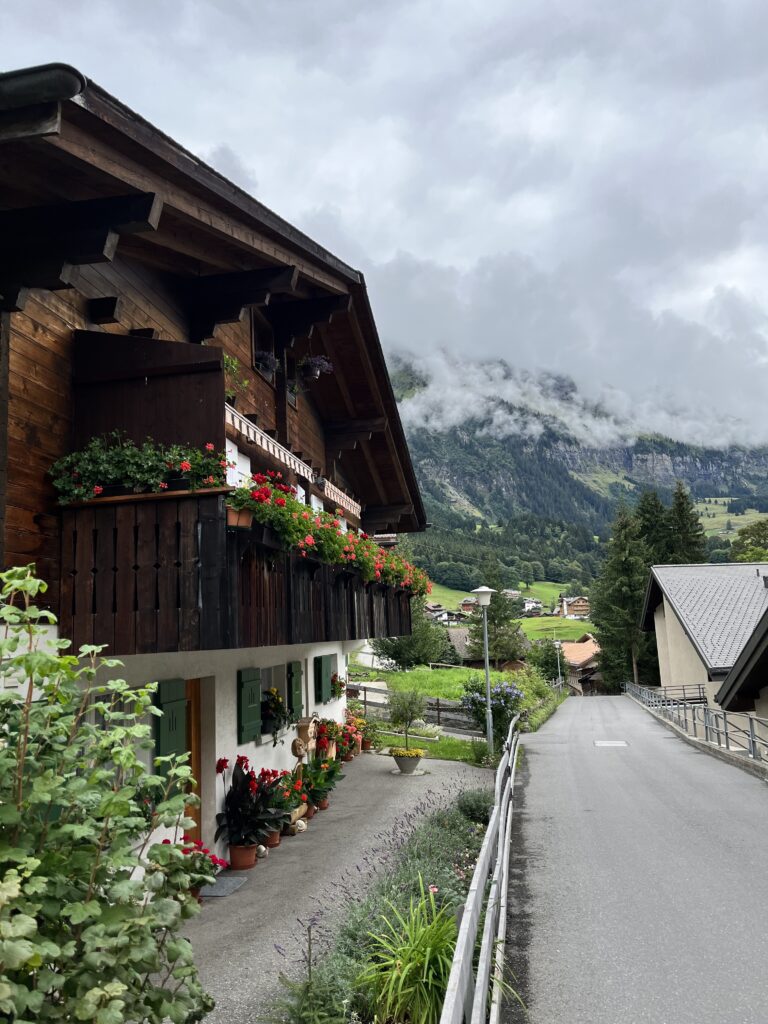 Originally from the Medieval Times, the Swiss Chalet was for farmers in the Alpine region who needed summer homes. It was mainly used to house cattle and store cheeses; however, now they have become year-round residences1.
The slope of the site is a big factor in the orientation and organization of interior spaces. Instead of fighting the slope or raising it off the ground, the Chalet embraces it and allows the slope to define different levels of the home. The foundation is often stone or concrete and is typically exposed on the downhill side2. The footprint of the building is usually as compact as possible in order to minimize heat loss.
As protection from the extreme Alpine weather, the chalet is typically constructed from hardy wood planks such as larch or pine1, with steeply pitched roofs that sometimes are close to touching the ground. The wood serves as not only the primary structure, but is also featured as decorative carvings on the balconies and eaves, demonstrating fine Swiss craftsmanship. The structure and decorations feel like one cohesive element.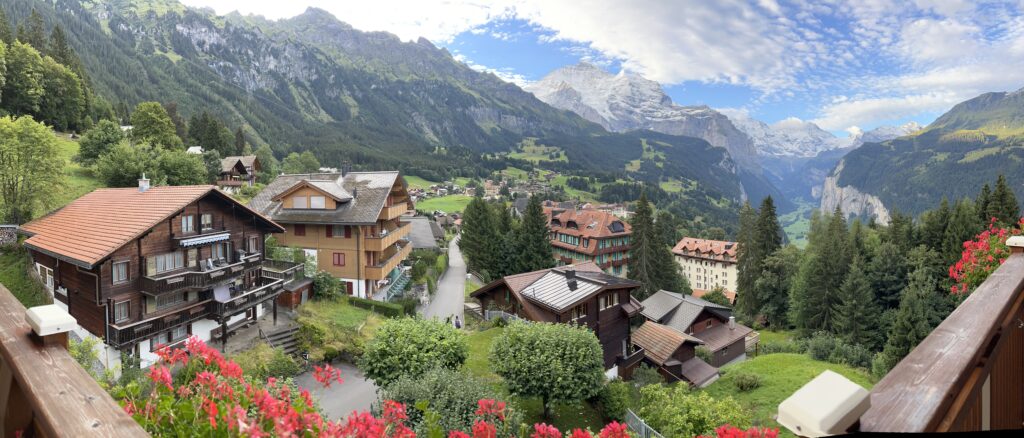 Balconies typically have some form of a wooden planter box with flowers (geraniums, which are in season from spring to fall) of different colors. Looking at one flower-filled balcony of one chalet may not be as impactful, but when seeing rows upon rows of these chalets with geraniums outside the balconies is quite a sight to behold. One of my favorite moments of our entire trip was sipping morning tea on one such balcony, with a view of the valley below us and the Jungfrau mountain ahead of us. Large windows not only offer breathtaking views of the landscapes, but they also allow in plenty of daylight.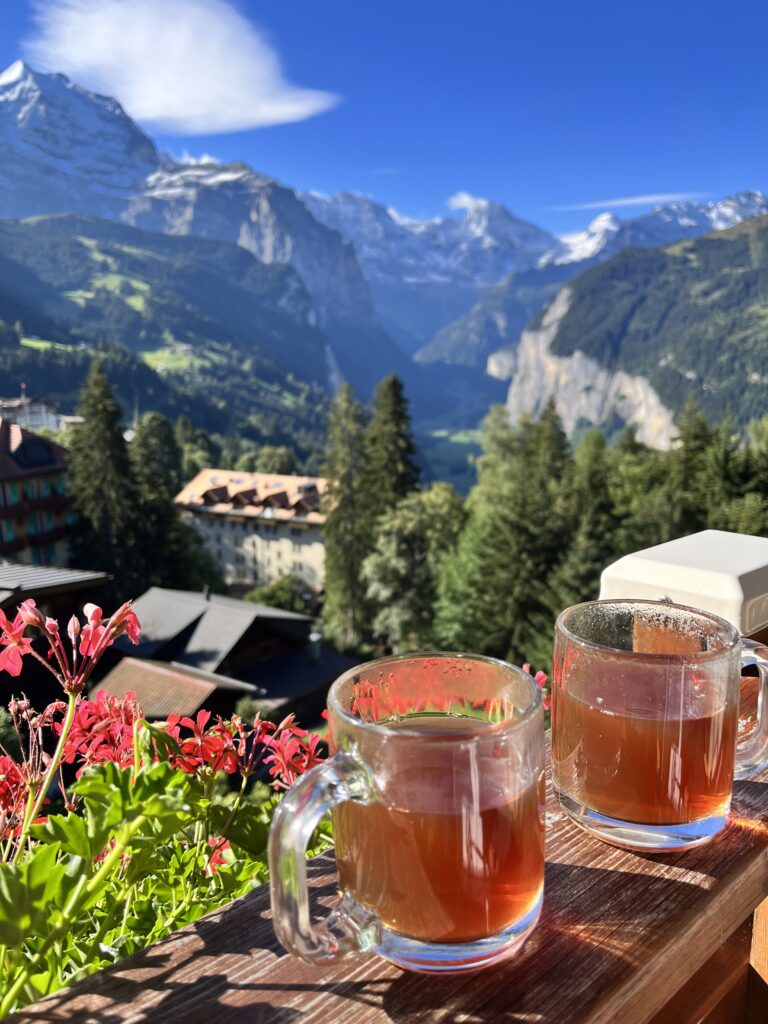 As time has worn on, the Chalet has modernized itself. Many contemporary chalets incorporate solar panels, geothermal heating, open terraces and indoor gardens1. Some even have heated pools, saunas and home theaters1. Others serve as hotels or luxury vacation homes.
During an era where the neat, clean lines of modern architecture is commemorated, perhaps it is time to remind ourselves that ornamentation and frivolity, in combination with form, function and response to micro-climate (as seen from the Swiss Chalet) is something to be celebrated as well. I am reminded of this every time I look at my little 20-franc chalet-replica souvenir (outrageous Swiss pricing) sitting on my bookshelf, a perfect representation of a building type that was built in response to harsh climates. Maybe Houston could learn a thing or two. I know I certainly did.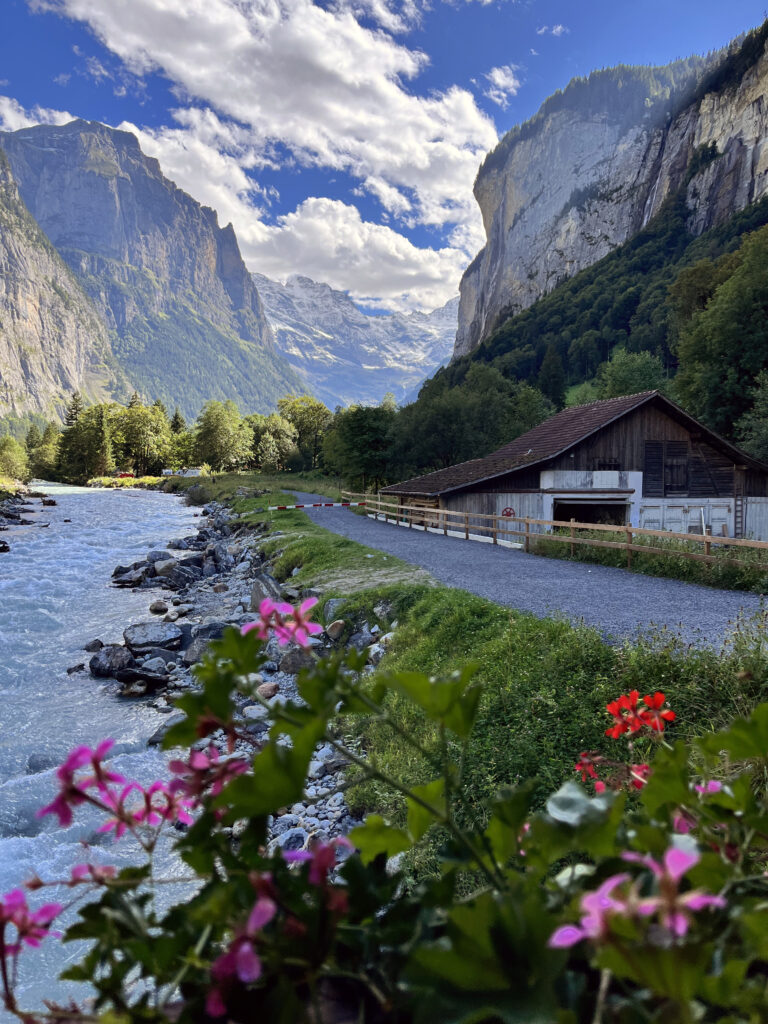 References
Grandgo. "Swiss Chalets: Comprehensive Guide." GrandGo, GrandGo, Inc, 28 Sept. 2023, grandgo.com/swiss-chalets/.
"The Chalet, an Ingenious Dwelling ." Le Grand Bornand, en.legrandbornand.com/the-chalet-an-ingenious-dwelling.html. Accessed 2 Nov. 2023.
Explore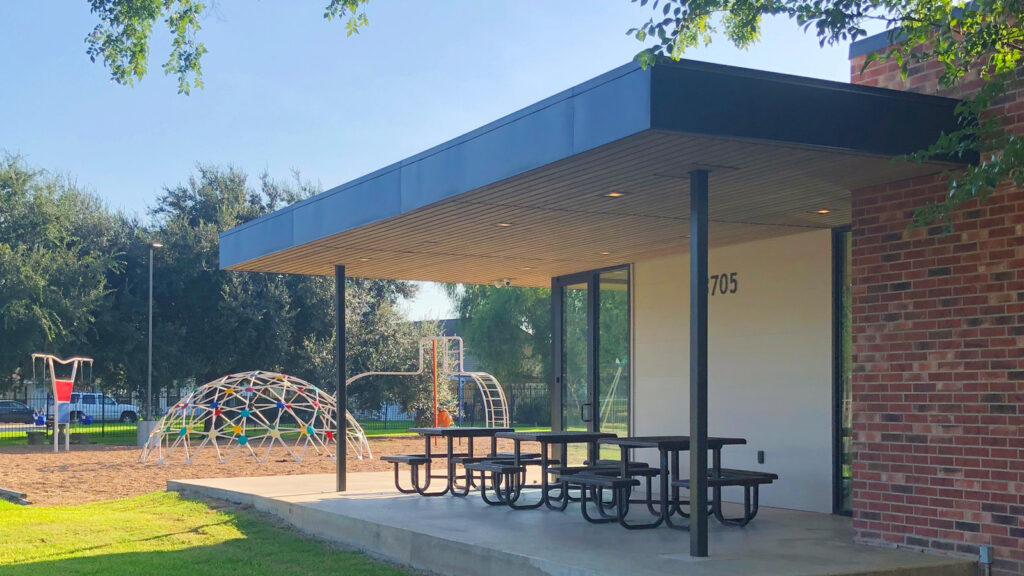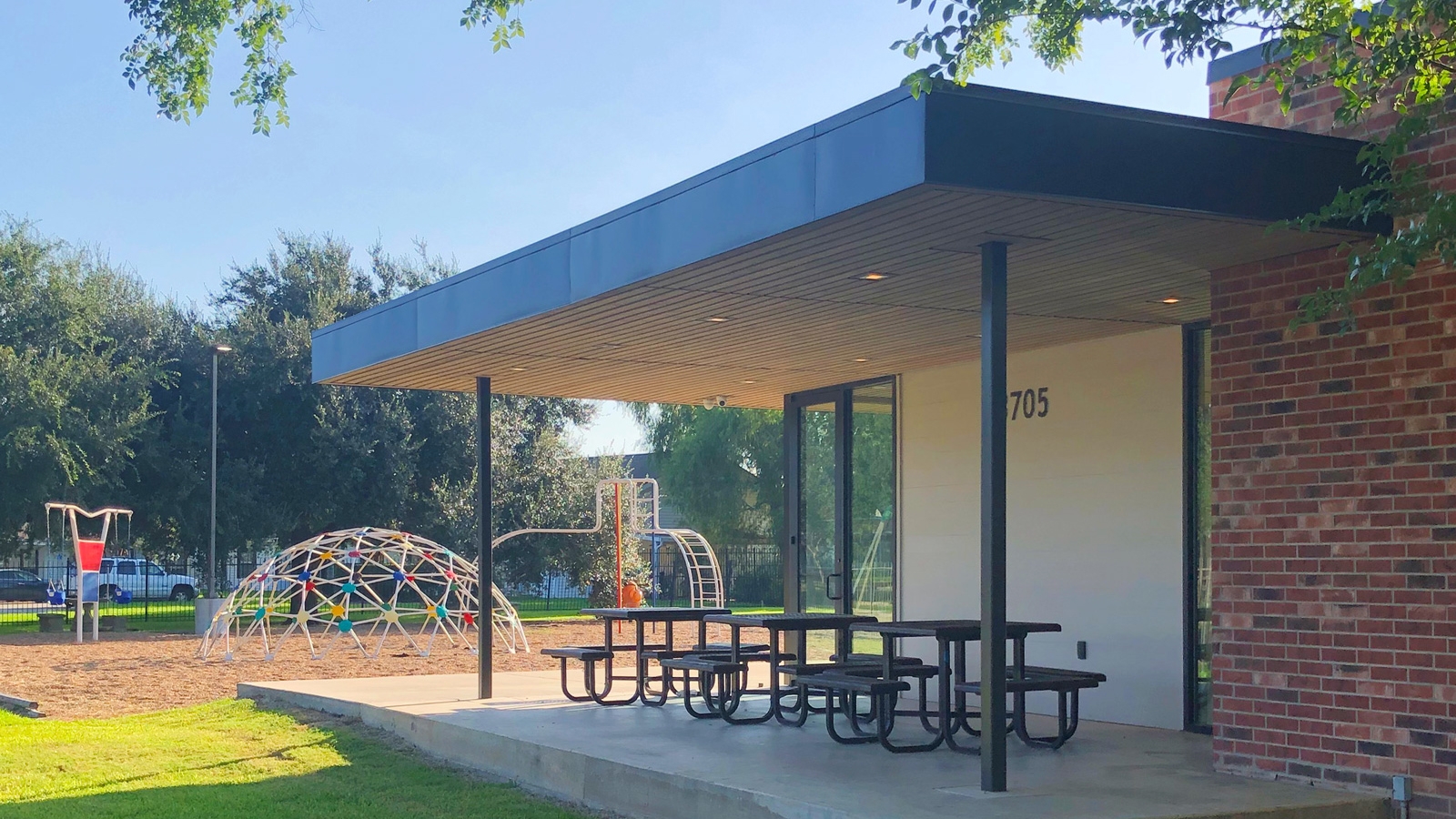 Houston, Texas
Commercial
Embracing four large existing trees, the neighborhood clubhouse seeks both a sense of inclusion and security. Public areas are sheltered by glass and wood. Private areas are enclosed by brick and filtered light.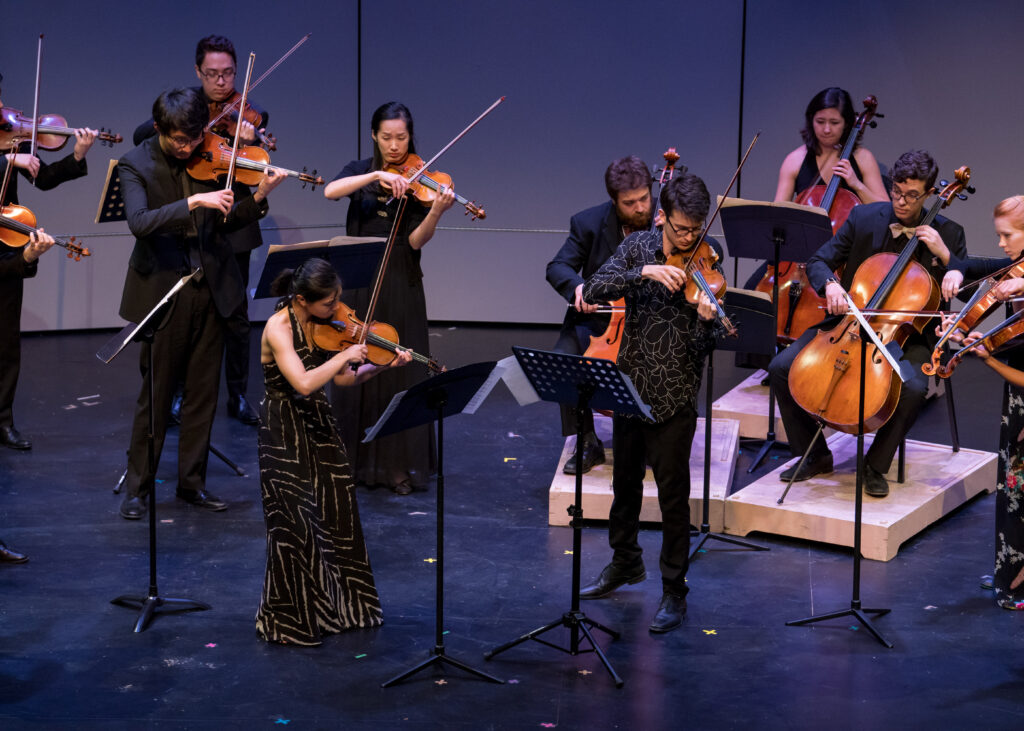 Violinist
Music and Performance
In this episode, our resident architects Joe Rivers and Kevin Barden visit with Natalie Lin, a violinist from Houston, Texas. Natalie is a violinist and founder of KINETIC, a conductor-less ensemble from Houston, Texas. Joe and Kevin sat down with Natalie to discuss her upbringing in music and how her ensemble is forging a new path for classical musicians.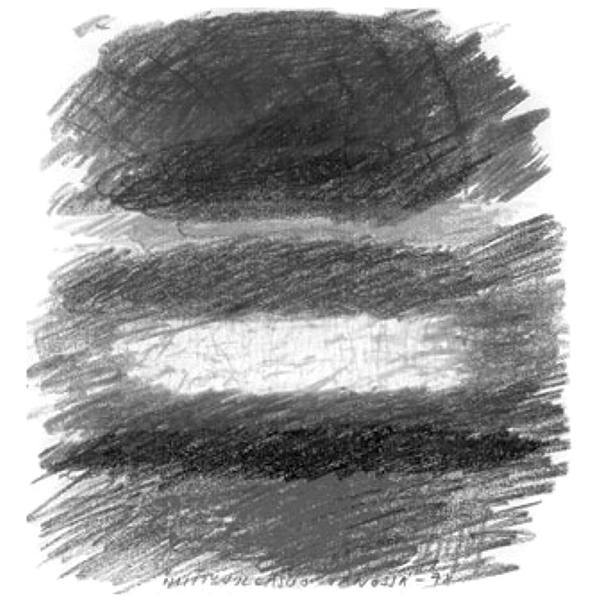 The emergence of digital and virtual technologies in the past decade has flourished exponentially giving academic environments and professional practices a newfound basis for collaboration between process and product. This essay proposes that we cannot lose sight of the underlying sources which drive a good process (whether digital, virtual, or manual) and lead to the opportunity for a great product. In his paper for the 101st Association of Collegiate Schools of Architecture, New Constellations New…