La Alhambra is located in Granada, Spain. It is one of the best-preserved palaces from the Moorish era, which lasted approximately 800 years. The following is a reflective essay written by Rafia of her experience there.
---
"We made a mistake," I say to my husband, Ahmed, as we shovel rice into our mouths. "We should have stayed in Granada longer." We had never tasted food quite like this before. The restaurant describes it as chicken medallions stuffed with spinach and nuts and honey sauce, garnished with almonds and rice with vegetables 1. I describe it as the best meal of my life.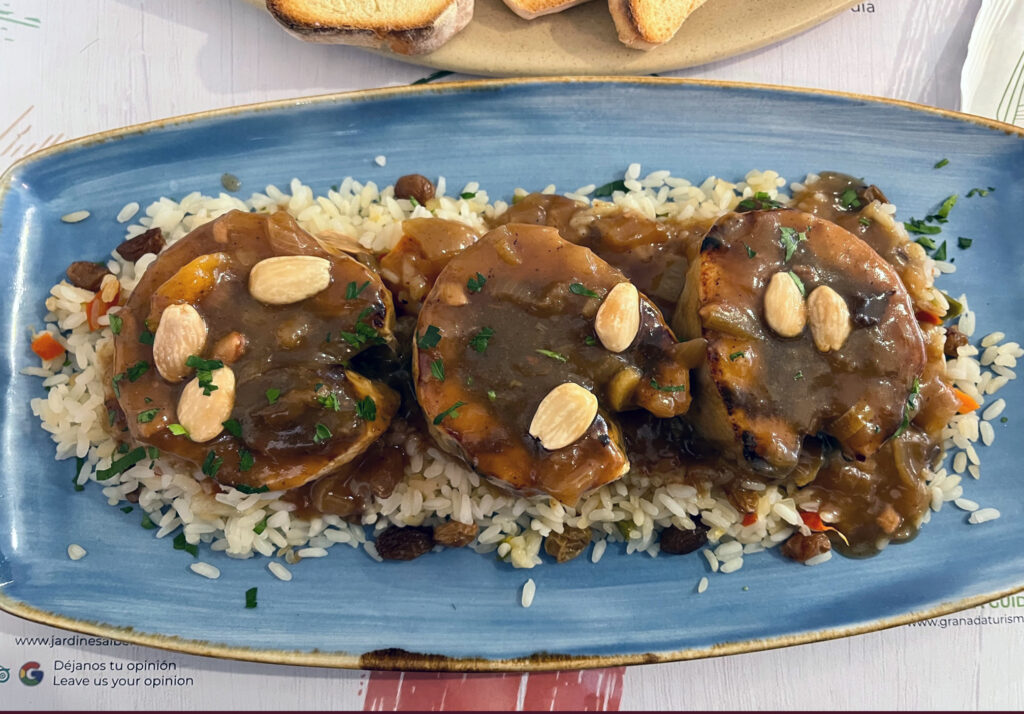 We were sitting in Restaurante Jardines Alberto, a multi-terraced Mediterranean restaurant that features re-created Moorish era dishes, located across from the Alhambra. Ahmed found this restaurant by accident, frantically looking for anywhere we could have lunch before our 2 pm tour.
See, this is the mistake we made. We thought a day trip from Madrid to Granada was sufficient time. We arrived in Granada at 11 am by train, had booked a tour of the Alhambra at 2 pm and our train back was at 7 pm. There is never enough time to explore beautiful, charming cities like Granada. Now we know better.
As we walk across the street to the entrance, there is a buzz of excitement in the air. Others, just like us, had traveled from all different parts of Spain just to come see this Fortress. We were surrounded by history buffs, kids on a field trip from school and other tourists who had looked up 'top 10 things to do in Spain', found this on the list and decided it was worth a visit.
For me, it went even deeper than that. As a Pakistani-American, I have always been interested in places where East meets West.
To be honest, I really didn't know that much about Alhambra. Neither did Ahmed. The opinion of Moorish rule varies greatly, but most people seem to agree on one thing – the influence that era had on today's Spain is undeniable. This is evident in the cooking methods, spices, advancement in agriculture and the introduction of crops such as apricots, pomegranates and figs 2.
As we enter the Fortress, we are met with a remarkable view of Granada. The Fortress of Alhambra is strategically located on top of a hill that overlooks the city, an advantage during battle. These views are framed by flowers of different colors.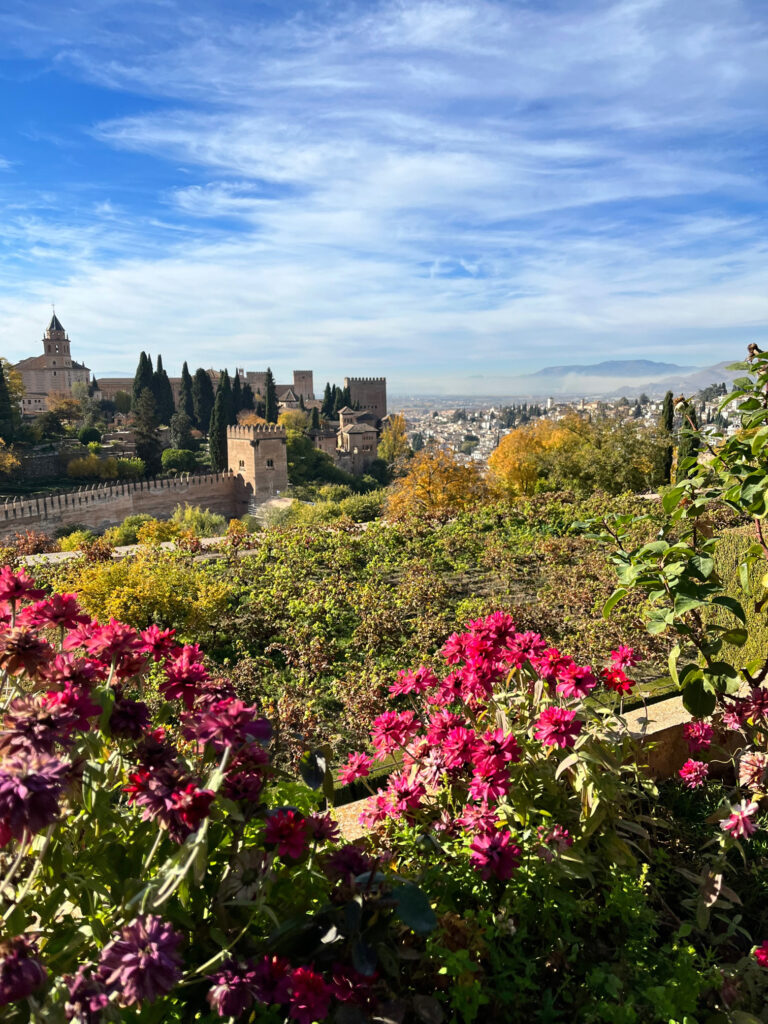 Outside of Alhambra proper is Generalife, a series of gardens that served as an escape for the Sultans of Granada 3. The role of public space vs private space is distinct here. Generalife is the most public of this entire Fortress. Although the gardens seem regimented and axial, there are plenty of nooks and crannies for intimate, private moments. Orchards line these gardens, featuring a variety of crops that were grown, harvested and eaten. Connecting the gardens is a series of complex irrigation systems.
The importance of water at La Alhambra is not lost. Not only does it bring life to the gardens and orchards in Generalife, but it flows in channels to cool buildings, takes form aesthetically in fountains and also provides sound control for any private conversations that may be happening nearby. Furthermore, the sound of water also provides a relaxing atmosphere. This complex water system stuns even the engineers of today – and to think it was built more than a thousand years ago is astounding 4.
The fact that inhabitants needn't turn elsewhere for essentials of life (water and food) makes it clear that this was meant to be a self-sustaining city.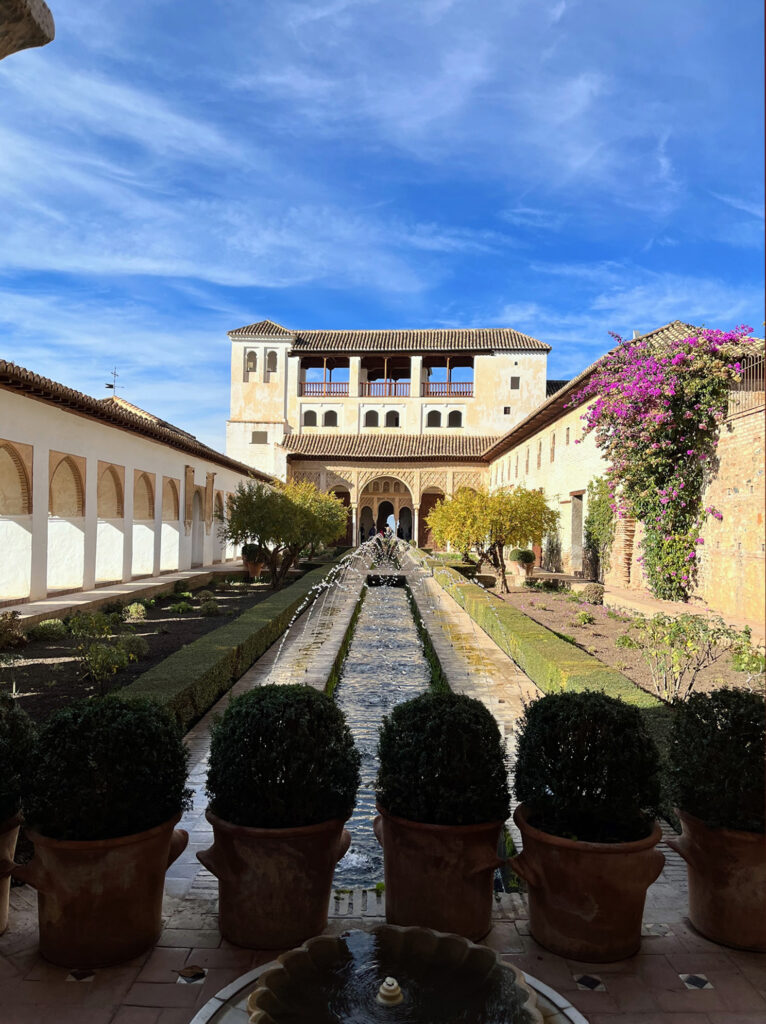 Once we passed through a variety of gardens, we were greeted with different courtyards, all sized according to use. These courtyards had numerous purposes – some were to house horses and other animals, some were for the use of soldiers and some served as an escape for those in royalty. The courtyards all had a few things in common. One, they provided relief from heat through the use of water and several different shading techniques. Second, they allowed for a transition between public and private space. And third, all of the human senses were appealed to.
Sitting in one of the courtyards, the smell of oranges from nearby trees filled the air. The scent was so sweet, we could almost taste it. If it was completely quiet, we could hear the sound of bubbling water from fountains. I will never forget what it felt like to be in one those courtyards. Such a simple concept was done so simply and beautifully that it left us in awe. The sight, sound, smell, and perhaps even taste is unforgettable.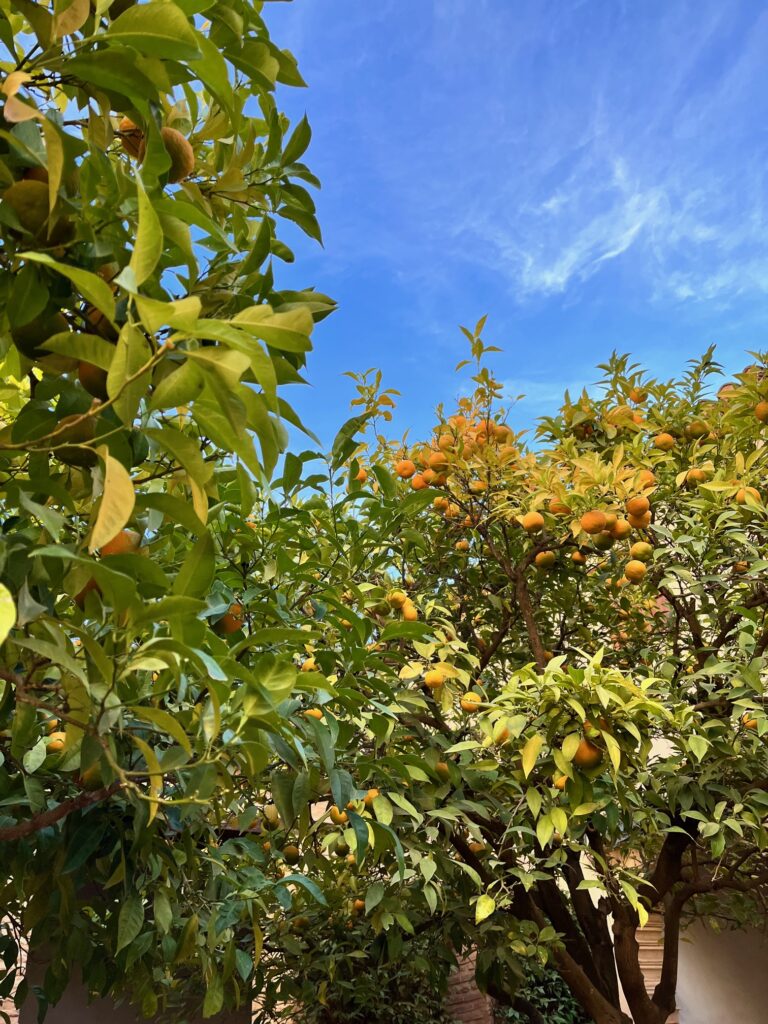 It was at this point our tour guide said, "we haven't even gotten to the best part yet." I was dumbfounded. I didn't realize we weren't even inside Alhambra proper yet.
We moved through a variety of courtyards, different buildings with covered arcade corridors and even a small outdoor amphitheater. We crossed remnants of palaces that had been built and then destroyed by conquerors, meandered through what was left over of soldier housing and peered into what was once an underground prison.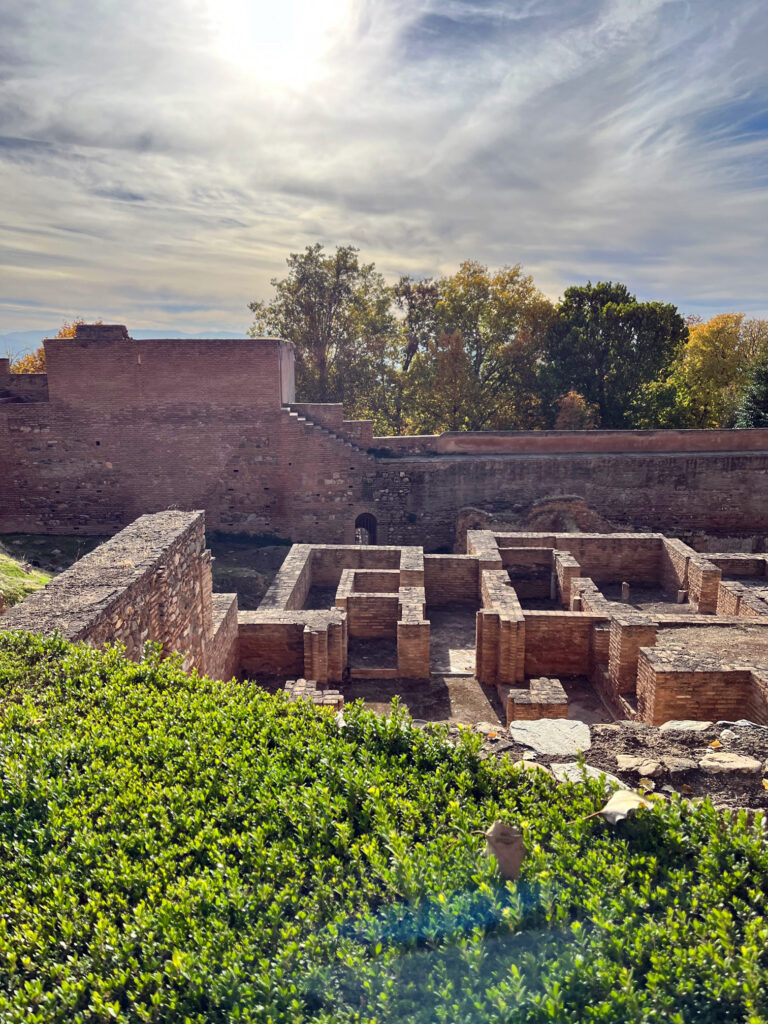 And then, we arrived to the main event. The Nasrid Palaces. This is where the Sultans, Kings and Queens of the time lived. Now, it serves as a way to showcase the excellence behind Islamic Architecture.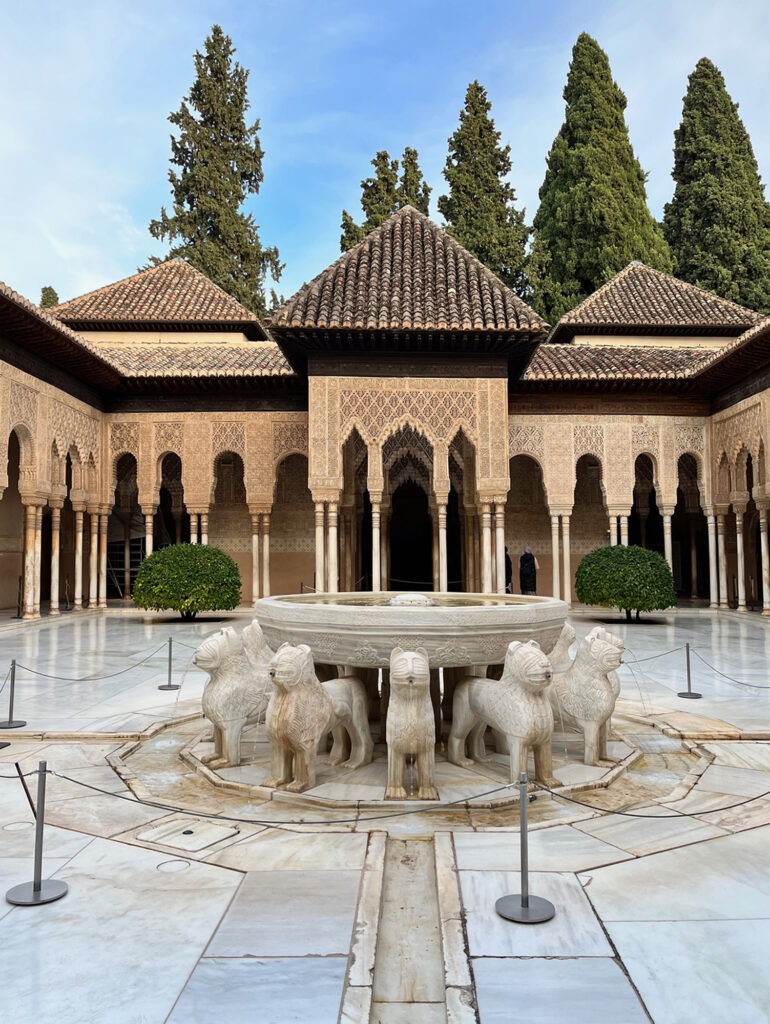 The Nasrid Palaces are the most private in the entire Fortress. This is where official royal matters were held, where justice was served, where the Council of Ministers met and where royalty resided. A way to control privacy and sight is done through the element of screening. The courtyards here are much more private with the use of tall trees, the rooms are more enclosed and there are many instances where one can look out towards the city from behind a screened window but it's difficult to look in.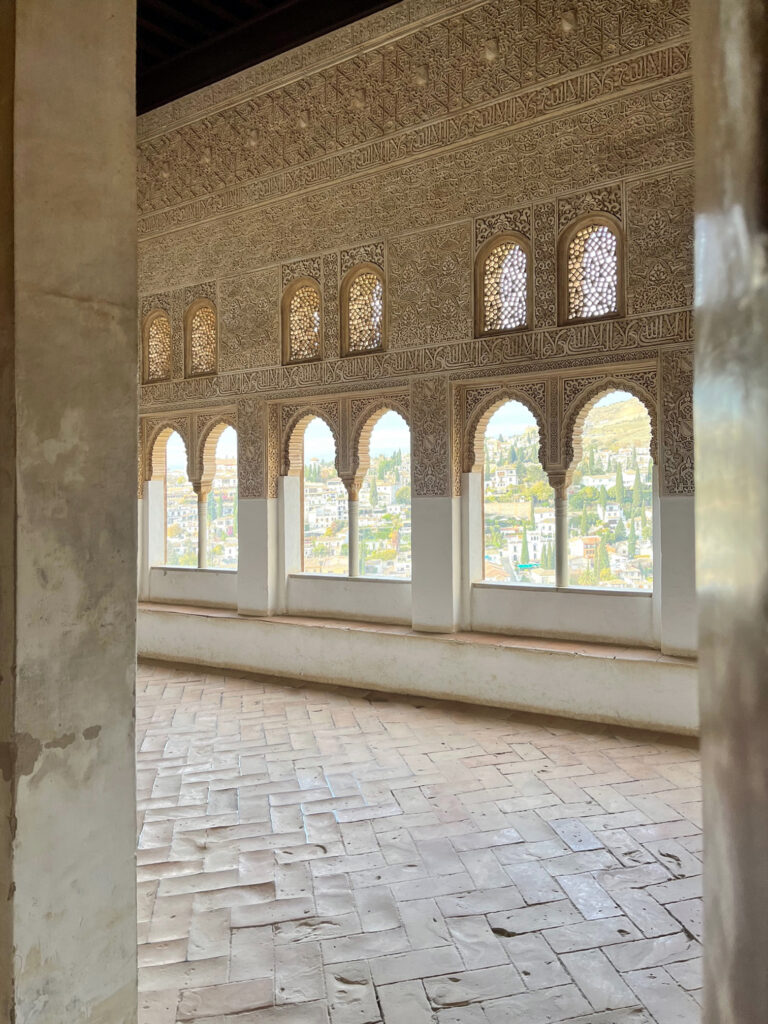 Due to humidity and weather, much of the color has worn off. There are still remnants of those colors – shades of navy, emerald, burgundy, mustard and white. Our tour guide told us the entirety of the palaces were covered in these shades of color; some of which can still be seen in the ceilings and floors today. I imagine when it was built, it must have been a sight to behold.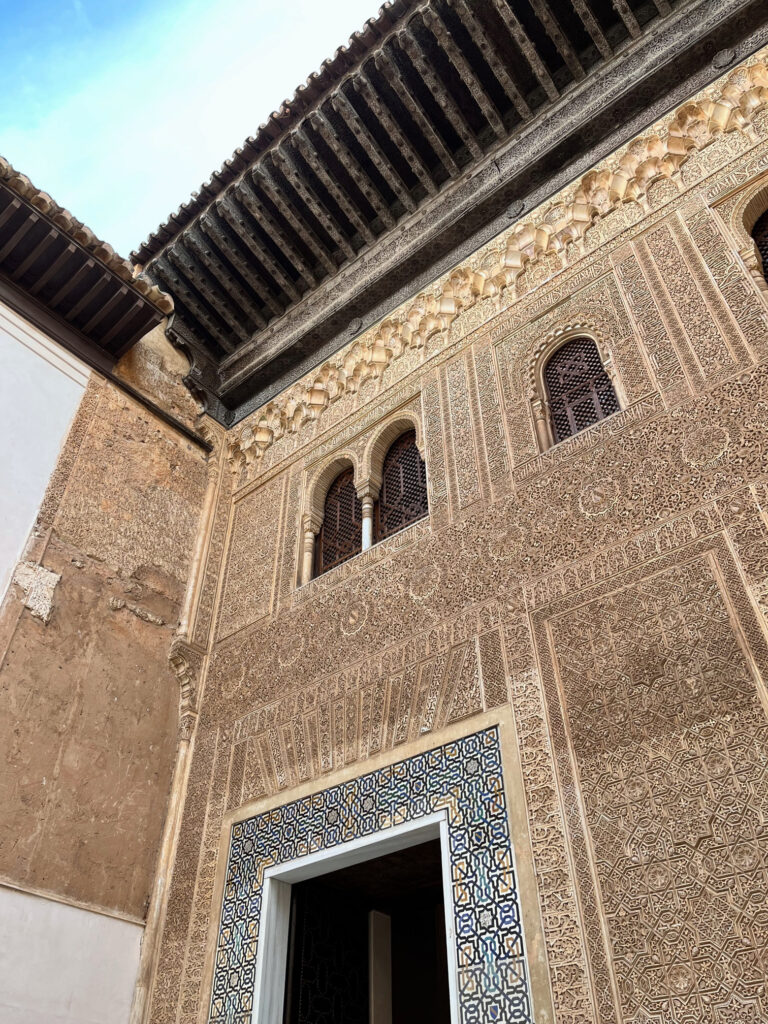 To the untrained eye, one may confuse the subtle calligraphy as a continuation of floral motifs engraved in the walls. The way the letters are stretched out and enjoined makes it difficult to differentiate. However, as someone who has been reading Arabic my entire life, I was able to see the difference immediately. Every room we entered in had different verses all intertwined with the rest of the engravings. I had never seen such spectacular displays in my life. Knowing that all of this was once in color made it an even more powerful experience.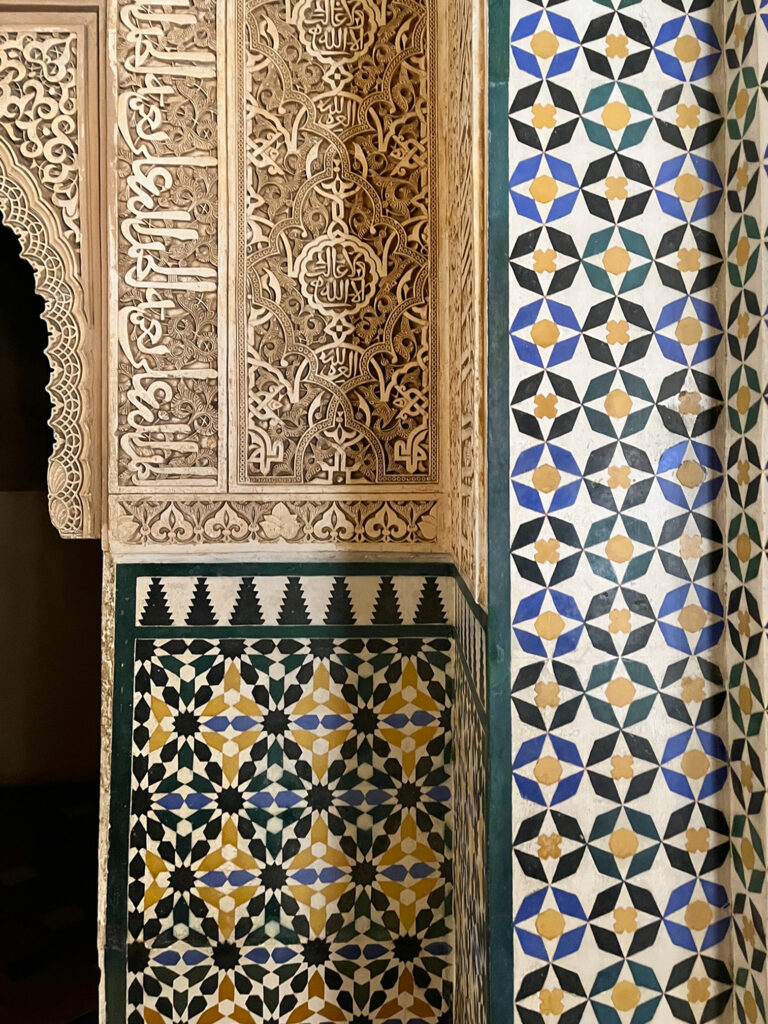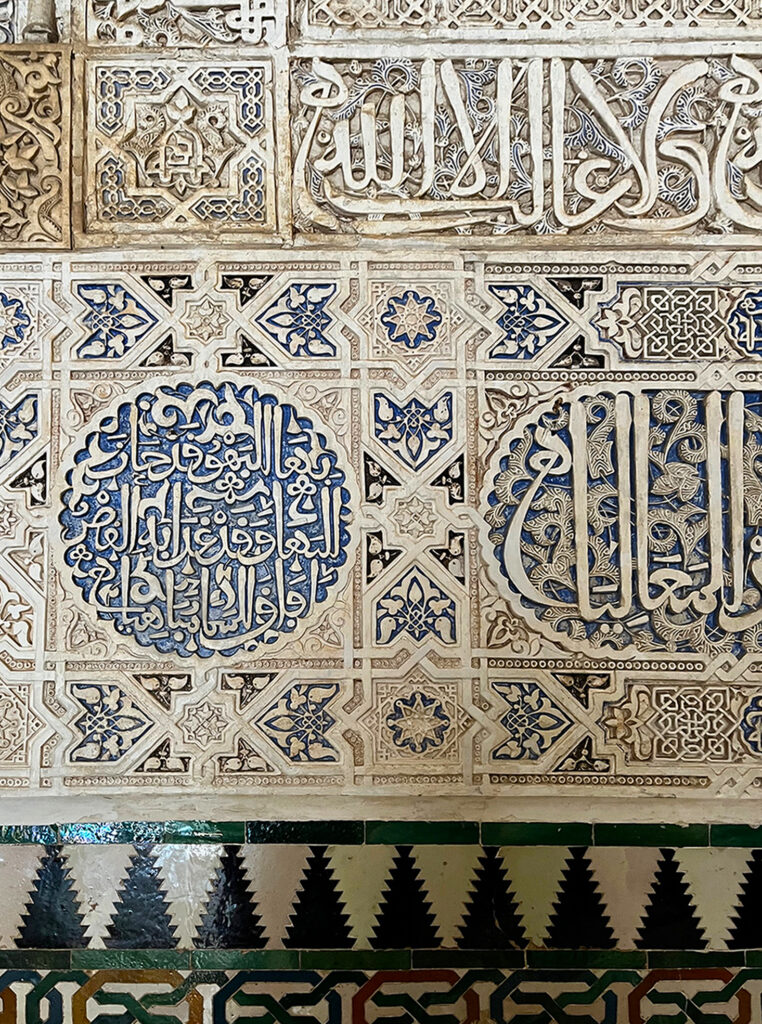 Once everyone had completed their "oohs" and "aahs", we moved to the final part of the tour. This part of the building was an addition done by Christian conquerors. The difference was stark. The beautiful engraving, the screened elements, the geometric perfection was gone. It was replaced by simple architecture with bare walls and little ornamentation.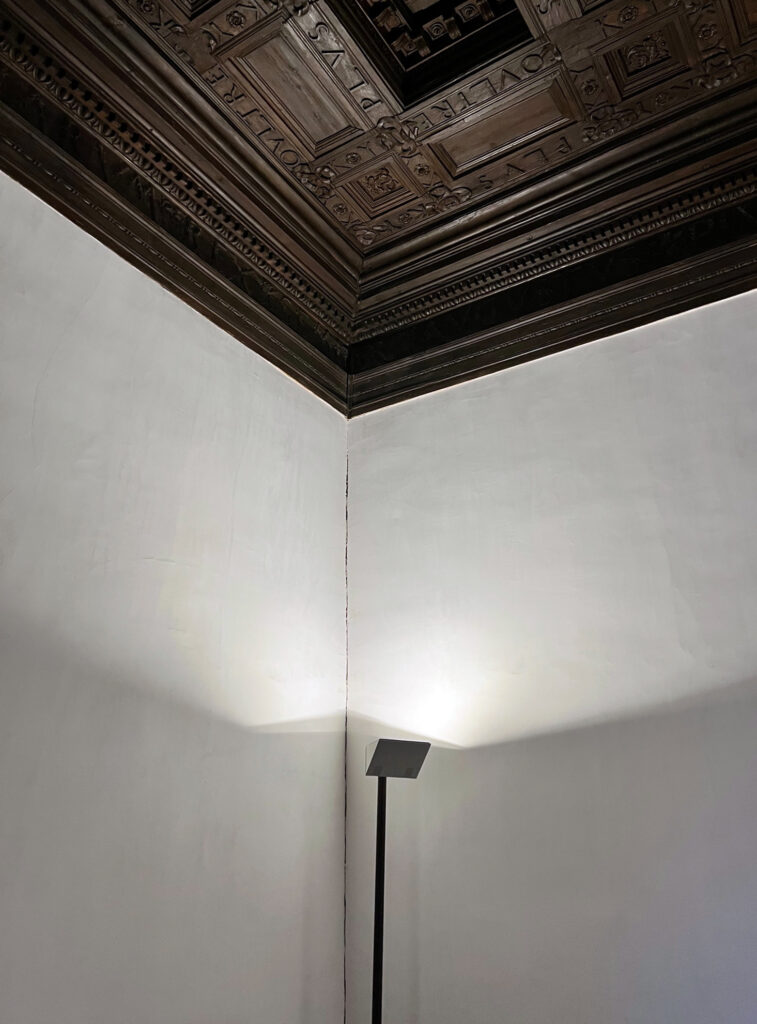 Our tour guide told us to not be disappointed, saying that while Islamic Architecture places an emphasis on ornamentation, geometry and architecture itself with very little emphasis on furniture or paintings, Christian architecture places an emphasis on decoration, furniture and paintings. These bare walls would have been covered in paintings with very detailed furniture and beautiful rugs laid out. I guess the thought helped.
As we leave La Alhambra and walk downhill to catch our train back to Madrid, Ahmed looks at me and says, "You know what? I think you were right. We did make a mistake by not staying here longer."
Until next time, La Alhambra.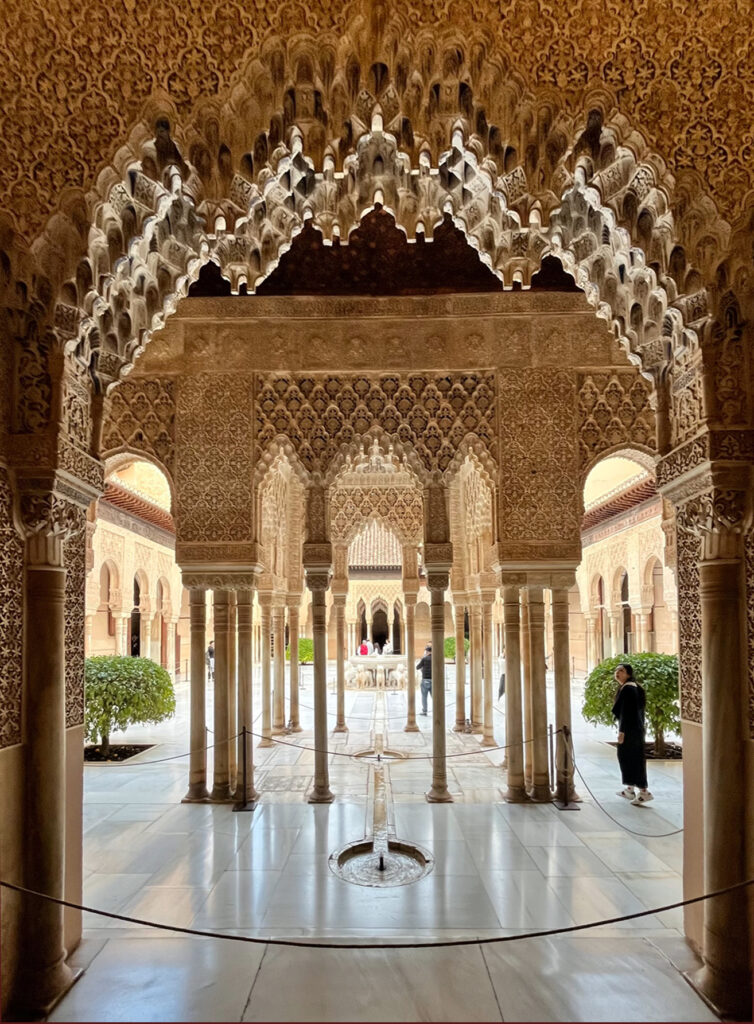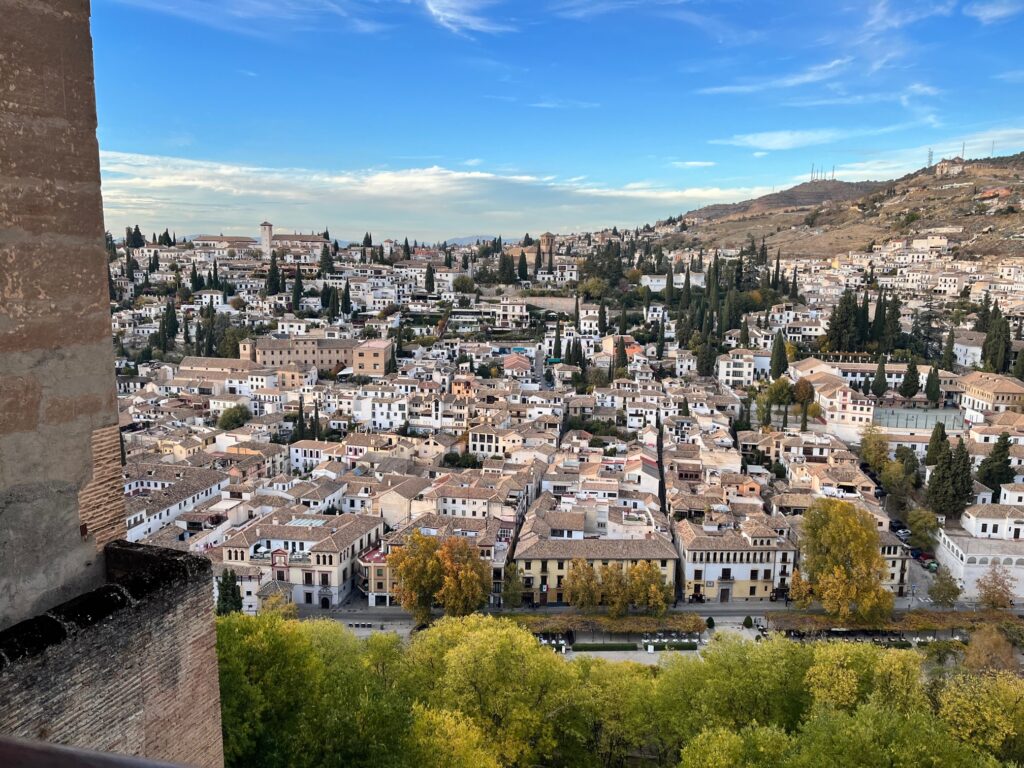 REFERENCES
Jardines Alberto Menu. Jardines Alberto. https://www.jardinesalberto.es/en/jardines-alberto-menu/. Published July 28, 2021.
Arab Moorish influence on agriculture in Al-Andalus. Spain Then and Now – Spain Then and Now. An overview of the history, literature, architecture, art and culture of Spain. https://www.spainthenandnow.com/spanish-culture/food-al-andalus-agriculture.
The Generalife – Alhambra. Alhambra de Granada. https://www.alhambradegranada.org/en/info/generalife/thegeneralife.asp.
Fox E. The Spanish city where water defies gravity. BBC Travel. https://www.bbc.com/travel/article/20220428-the-spanish-city-where-water-defies-gravity. Published April 29, 2022.
Featured Image: Pappas D. La Alhambra.; 2022. https://thetourguy.com/travel-blog/spain/granada/alhambra/brief-history-of-the-alhambra/.
Explore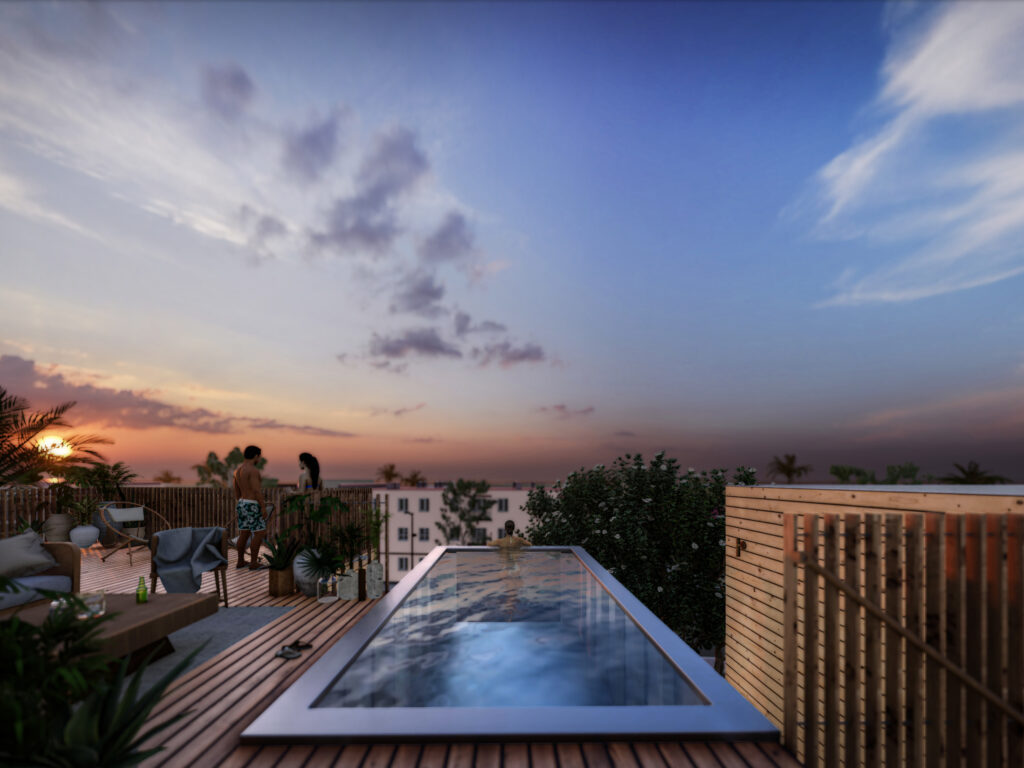 San Diego, California
Residential
Located on the bustling street of Mission Boulevard in San Diego with the Pacific Ocean on one side and Mission Bay on the other.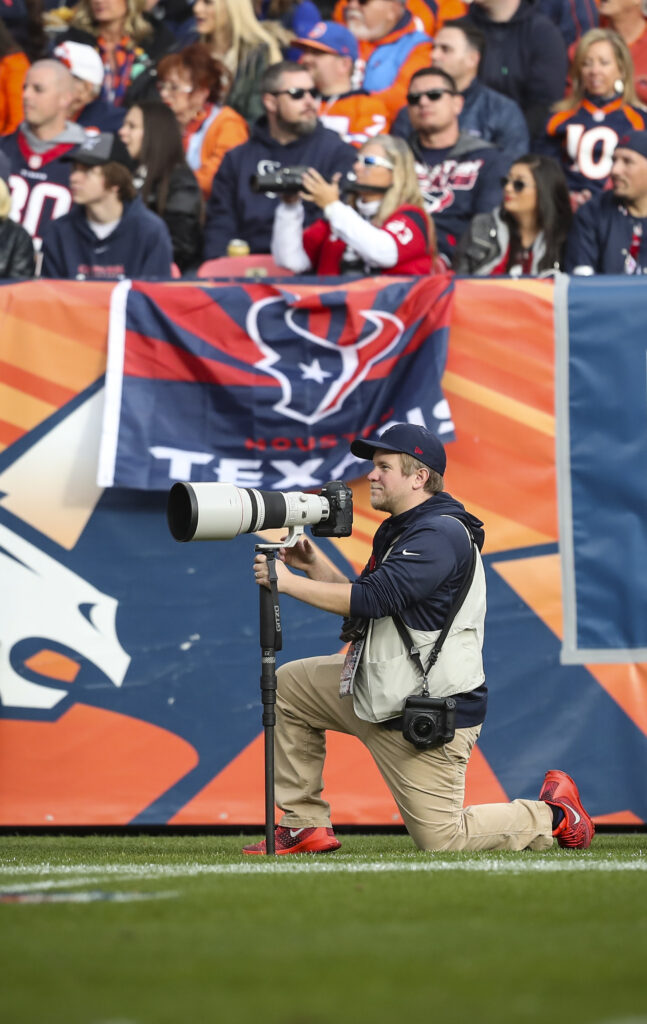 NFL Photographer
Art and Design
In this episode, our resident architects Joe Rivers and Kevin Barden visit with Zach Tarrant, a sports photographer from Houston, Texas. Zach is a professional sports photographer for the NFL's Houston Texans. Joe and Kevin sat down with Zach to discuss his winding journey to the NFL, his duties as a team photographer, and the themes central to his work.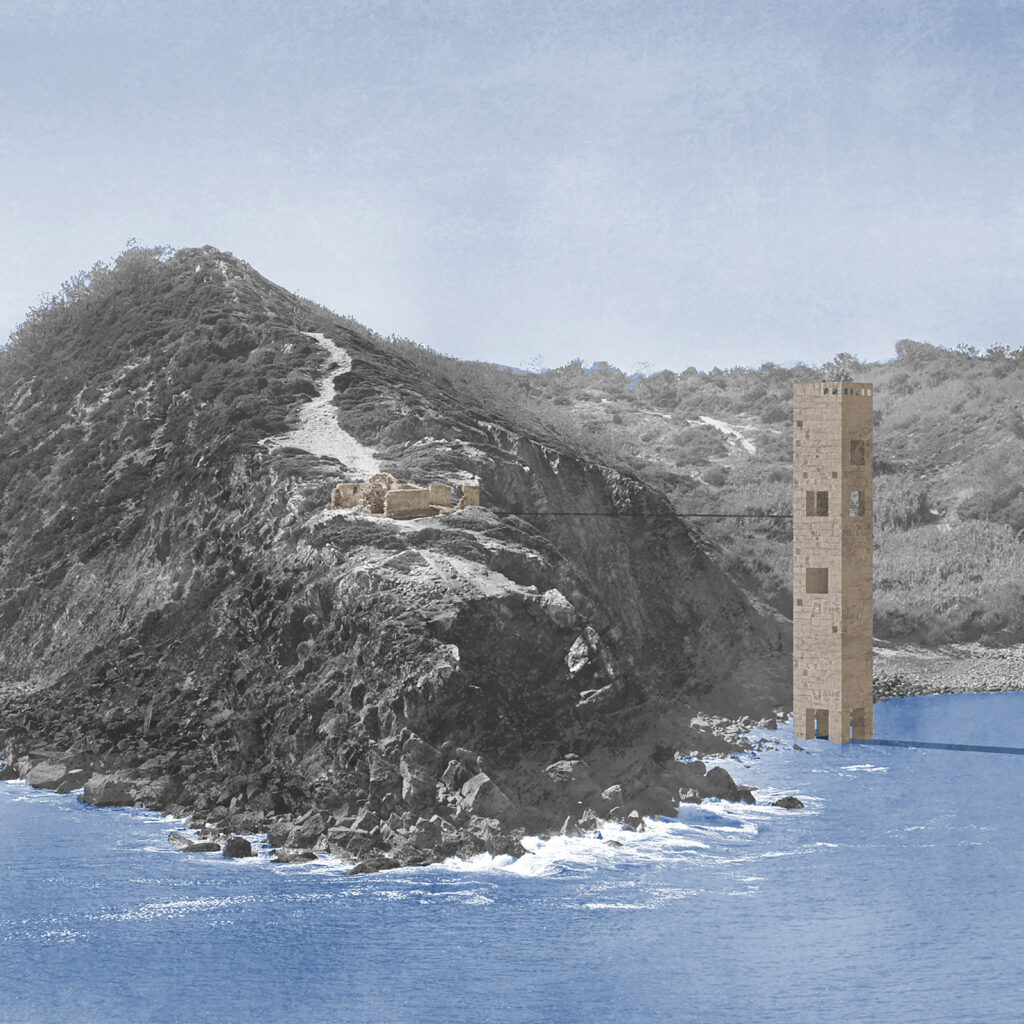 Joe Rivers and Kevin Barden
Competitions
"The Site Dwelling, located on the cliff of the bay, in the village of Salir do Porto, aims to create a secluded destination, a place of retreat to engage with the landscape while providing shelter from the natural elements.  This is a place to stay and inhabit for a few days, offering visitors a unique experience in a very special setting; visitors must leave the space as they found it, empty."  Rivers Barden Architects was…